Tiptopmix, the new hypermobile plant of CTP Constructeur !
CTP Constructeur is pleased to present its new hypermobile plant, manufactured in our workshops in Ribaute-les-Tavernes and delivered at the end of January.

CTP Constructeur, specialist in the manufacture of work site equipment for the construction and maintenance of roads located in Gard (France), adapts to all needs by designing ever more efficient machines and equipment. The latest output from our workshops is a hypermobile plant, Tiptopmix !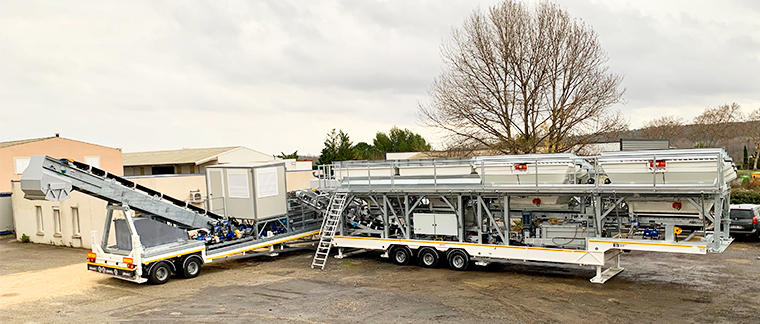 This plant has two parcel double mixing and phase shifted, for a production capacity of 100 to 250 tons per hour. It can be adapted to all productions according to its configuration : hydraulic graves, bituminous graves, limed graves…
The control of this plant is controlled by our Saphir software, intuitive and ergonomic. Registered, it can achieve the maximum speed of 70 km / h. Its autonomous installation doesn't require the intervention of a crane. Its integrated control cabin and its rapid production will make it the ideal assets for all your work sites !
You can consult all the technical characteristics of our hypermobile plant by downloading the technical sheet here and discover it in more detail via the video right here.
If you would like to know more about our hypermobile plant, or about the other work site equipments which we are able to manufacture and deliver, don't hesitate to contact our team. We will be happy to answer all your questions. For this, you can contact our sales department on 04 66 54 28 80, or send an e-mail to the following address: commercial@ctp-constructeur.fr.
An answer will be brought to you as soon as possible. You can also find the contact details of our spare parts service and our after sales service by going to the Assistance and Services page.